Hey there! Some links on this page are affiliate links which means that, if you choose to make a purchase, we may earn a small commission at no extra cost to you. We greatly appreciate your support!
I love my Canon EOS R but with bulky interchangeable lenses and a total package that costs thousands of dollars, it can be impractical for everyday carry. Some spaces also do not allow professional cameras without a permit.
Sometimes, I just need something that I can fit in my pocket but gives me better image quality than my iPhone. This is when I began exploring compact cameras, also known as point-and-shoot cameras, and developed this list of the best compact cameras for travel photography.
I presumptuously used to dismiss these cameras as useless in the era of smartphones. My mind was changed when I worked on a movie set as a behind-the-scenes photographer, and the cinematographer kept pulling out his Ricoh GR IIIx (pictured above) and taking photos. I asked him about it and he showed me some of the features as well as the photos he was able to take. I was impressed by the little camera's capabilities and I realized it was a mistake to discount point-and-shoot cameras.
For a final image, a lens can often matter more than the camera itself. If you have a DSLR or mirrorless camera, check out my article about the best travel lenses for Canon and Sony.
What are the best compact cameras for travel photography?
Overall Best Compact Camera for Travel
Specs:
Sensor Size: 26.1MP APS-C CMOS
Lens: 35 mm f/2 (35 mm equivalent)
ISO Range: 160-12,800
Dimensions (W x H x D): 5.04 x 2.94 x 2.1"
Weight: 16.8 oz
Battery Life: approx. 350 shots
This retro-looking Fujifilm camera is hugely popular in the point-and-shoot camera space. Its larger size allows for a large 26.1 MP sensor, giving excellent image quality with the classic beautiful character that Fujifilm is known for. The built-in 35 mm equivalent lens with a maximum aperture of f/2 allows for versatile use in a variety of lighting conditions. This camera also features a built-in flash.
The X100V camera is the most expensive option on the list, going for over $2,000 on Amazon (a rare place where it is still in stock). Platforms where it is listed at cheaper prices (sub $1,500) are usually sold out, and this camera is known for being hard to find.
Weighing in at over a pound, this camera is also the largest on the list and measures nearly an inch wider than all of the other compact cameras. With that larger size however, the Fujifilm X100V also boasts the longest battery life of the bunch, with approximately 350 photos per charge.
Best Budget Compact Camera (under $500)
Specs:
Sensor Size: 20.3MP 1/2.3″ MOS Sensor
Lens Specs: 24-720 mm f/3.3-6.4
ISO Range: 80-640
Dimensions (W x H x D): 4.4 x 2.7 x 1.6″
Weight: 11.57 ounces
Battery Life: Approx. 250 Shots
The Panasonic Lumix DC-ZS80 is an excellent option for those looking for a budget compact camera option under $500. The camera has a respectable 20.3MP sensor and a gigantic focal length range of 24-720 mm which allows for both wide-angle photos and extremely zoomed-in telephoto shots.
I always recommend that beginner photographers use lenses with a large focal length range because it teaches you how these different "zoom" levels affect the spacial dimension of your image. Wide-angle lenses expand space, while telephoto lenses compress space. See my article on hiking and backpacking photography tips for some examples of this lens compression.
One thing to note is that low light performance is fairly poor with this camera since the ISO range is relatively small and its maximum aperture is f/3.3. During daytime hours outdoors however, this should not present any problems.
Best for Travel Vlogging
Specs
Sensor: 20.1 MP 1″ Exmor RS BSI CMOS
Lens Specs: 18-50 mm f/1.8-4 (35mm equivalent)
ISO Range: 125 to 12,800
Dimensions (W x H x D): 4.15 x 2.4 x 1.84″
Weight: 9.4 ounces
Battery Life: Approx. 290 Shots
The ZV-1 II is a popular point-and-shoot camera by Sony that provides remarkable videography capabilities for documenting your travels. Its built-in autofocus eye-tracking, fully articulating screen, wide-angle lens, and 4k HD video quality, this camera is excellent for travel vlogging and content creation.
As a travel content creator, the biggest benefit of this camera would be making short-form content for social media. Having the ability to take a capable video camera out at any time and take high-quality 4k video is a game-changer for consistent content creation.
With Sony's CMOS 20.1 MP sensor, this camera also provides excellent photography capabilities and will serve many of your purposes in that arena as well.
Specs
Sensor Size: 24.2MP APS-C CMOS
Lens Specs: 40mm f/2.8 Lens (35mm Equivalent)
ISO Range: 100-102,400
Dimensions (W x H x D): 4.3 x 2.4 x 1.4 inches
Weight: 9.2 ounces
Battery Life: Approx. 200 shots
This powerful little camera is the best in the game as far as image quality. Its large 24.2 MP sensor allows you to capture incredible detail while still being able to fit this camera in your pocket. This was the camera that initially sparked my interest in the world of compact cameras.
A very unique feature of this camera is that it comes with a built-in ND filter. This allows you to reduce the exposure of the image by 2 stops and permits excellent shooting in bright conditions such as on a hike.
The camera's built-in Bluetooth also allows you to transfer photos directly to your phone, making it excellent for content creators wanting to post about their day-to-day activities while maintaining excellent image quality. Since I mainly post my content on Instagram, this feature makes this camera super attractive to me since it circumvents the hassle of uploading to my laptop first before being able to send the photos to my phone.
A limitation of the Ricoh GR IIIx is that this camera does come with a fixed focal length, which limits its versatility. It also has the shortest battery life of all the compact cameras on this list. Depending on where you are traveling, that could be a dealbreaker.
Best for street photography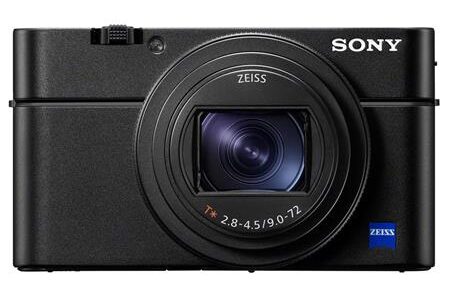 Specs:
Sensor Size: 20.1MP 1″ Exmor RS BSI CMOS
Lens Specs: 24-200 mm f/2.8-4.5 (35 mm equivalent)
ISO Range: 100-12,800
Dimensions (W x H x D): 4 x 2.29 x 1.69″
Weight: 10.65 ounces
Battery Life: Approx. 240 Shots
The Sony RX100 VII is my favorite on this list for street photography while traveling. The reliably high-quality 20.1 MP Sony CMOS sensor combined with the 24-200 mm focal length range will let you take photos in nearly any situation. A large focal length range is ideal for street photography since all of your subjects are candid and you don't necessarily have the luxury of physically moving to capture a quickly-passing scene.
This camera doesn't have the best aperture range, meaning it won't have as much bokeh (blurry background) nor mind-blowing low light performance. For the size, however, this camera is hard to beat.
Conclusion
The world of compact cameras presents a diverse and rich selection suitable for all types of travel photographers, from novices to experts seeking a light, adaptable tool for their adventures. These cameras, ranging in focus from budget-friendly to high image quality and specialized uses like vlogging or street photography, offer a solution for every need without compromising on the artistic integrity nor quality of your photography.
While it's easy for those used to DSLR or mirrorless systems to underestimate compact cameras, the models discussed here prove their ability to produce stunning, high-quality images and videos, rivaling larger cameras in many aspects. Their portability and uncompromised quality make compact cameras an essential asset for capturing spontaneous and memorable moments on your travels.