Many iconic Austin restaurants have closed as the city has continued to rapidly grow and change. When you think of Austin restaurants that have closed, you probably think of Shady Grove or the Magnolia Cafe on Lake Austin Blvd. But you have probably forgotten about the Holiday House diner in Tarrytown, the Nighthawk burger chain, and the Threadgill's on North Lamar. Oh and… you probably don't remember that there used to be a Magic Time Machine restaurant on East Riverside. Here are 10 iconic Austin restaurants that you have probably forgotten about:
Classic Austin Restaurants that Shut Down:
Holiday House
2425 Exposition Blvd
Everyone Misses the Holiday House Restaurant in Austin
When I was asking people what restaurants they missed most, Holiday House was the most popular response. However, this restaurant isn't listed on any of the restaurant closure lists that I could find! Holiday House served burgers in the heart of Tarrytown from 1947 until 2004. The diner was started by two WW2 veterans.
Ralph Moreland took over the operation in 1952– bringing an alligator named Charlie along with him. Holiday House became a mainstay in Tarrytown; the restaurant had fantastic staff retention as many employees chose to work there for over thirty years. Holiday House also had locations on Barton Springs Road and Airport Boulevard but these closed long before the Exposition location. For old photos of the Tarrytown Holiday House and its staff, visit this site.
The closure of Holiday House in Tarrytown restaurant was allegedly a score for Jeanne Daniels who inherited the building. According to The Austin Chronicle, Daniels "systematically ousted every business that sold meat products from her property."
The Nighthawk No. 2 Frisco Hamburgers
Congress Ave and Riverside Dr
The Nighthawk was Austin's Most Socially Progressive Burger Joint
The Nighthawk No. 2 was opened in 1932 on the corner of Congress Avenue and Riverside Drive. The burger joint, which was named "Nighthawk" because it stayed open late, closed its last location on Burnet Road in 2018. In its heyday, the business had 7 different locations. Including one in both San Antonio and Houston.
The man who opened it was named Harry Akin, and he was known to hire women and people of color. He worked to desegregate restaurants in Austin and served as the city mayor from 1967 to 1969. There are several interesting things that happened at Night Hawk, including a visit from President Lyndon B. Johnson. Night Hawk TV Dinners are still available in grocery stores in Austin.
Threadgill's
6416 North Lamar
Threadgill's Live-Music Venue Closed After 40 Years
Threadgill's was a famous live music spot where Janis Joplin got her start. The joint closed in 2020 when the covid pandemic swept across the world, taking many of Austin's restaurants along with it. Threadgill's had withstood a lot by that point. The venue had been burned down and reopened twice. Upon the third opening, it was made into a restaurant as well as a music venue. In total, Threadgill's was open for 40 years.
Although he received a couple of offers for the restaurant, the owner Eddie Wilson opted to close the restaurant and only sell the building. He didn't want to leave his legacy in someone else's hands. Eddie Wilson is an important figure in Austin's history who was dedicated to bringing affordable live music to our city. In the 1970's, he created Armadillo World Headquarters which was crucial in unifying Austin's live music scene.
Opal Divines
3601 S Congress Ave
The Opal Divines Live Music Venue Expects a Grim Future
The original Opal Divine's location on S Congress closed in 2016, after serving Southern delicacies like chicken fried steak and Tex-Mex for 11 years. According to a statement from the restaurant team, the restaurant's closure is because "Austin's 'Keep Austin Weird' fascination is fading into a search for the latest and greatest new restaurant/bar/concept." The live music venue hosted many local musicians. Luckily, Opal Divine's still has a location on S I-35 Frontage Rd.
Nau's Pharmacy
1115 W Lynn St
The Iconic Diner That Never Changed
Nau's Enfield Drug wasn't only a pharmacy, it was also a diner that served hamburgers and well-renowned rootbeer floats. The business originally opened in 1951, keeping its vintage charm until it closed in 2022. As a kid, I would sit at the counter and drink a root beer float while my grandmother did her shopping.
Apparently, Nau's closed because the landlord wouldn't allow them to renew the lease. The building is currently vacant; it was bought by an unknown party that is suspected to be McGuire Moorman Lambert Hospitality (MML). MML is a local hospitality group that has been rapidly expanding across Austin. They own Jeffrey's and Josephine House right across the street from where Nau's used to be.
Magic Time Machine (Closed in the 70's)
600 E. Riverside
The Best Place to Have a Birthday in the 70's
Magic Time Machine is an off-the-wall restaurant that briefly had a location in Austin in the 70's. The atmosphere of the Magic Time Machine in Austin was wondrous– to say the least.
The waiters were dressed up in funky costumes and there was an old car that had been converted into a salad bar. The old menu featured a variety of jaw dropping food options including a "Roman Orgy" feast. The restaurant's advertisements invited people to come celebrate a variety of different occasions including "My diet starts tomorrow" and "Beethoven's Birthday."
Magic Time Machine still has a location in both Dallas and San Antonio. The old Austin location on 600 E. Riverside has been turned into a Cidercade, which is an arcade that serves alcohol.
Hut's Hamburgers
807 West 6th Street
The Hut's Hamburgers in the airport isn't the same.
Hut's Hamburgers served Austinites burgers in their West 6th Street location for nearly fifty years. The restaurant was homey with its dark lighting and cushy booths. There was a taxidermied animal head on the wall wearing a "Hut's Hamburgers" hat alongside photos of celebrities who had dined there.
Sure, it was heartbreaking when Hut's on West 6th closed. But what is even more heartbreaking is that there is a soulless ghost of the old establishment in the Austin Airport. The Hut's in the Austin Airport is a cold, modern attempt at a "vintage-diner" that doesn't resemble the old location whatsoever. The establishment is has teal and white tiles— and feels unsettlingly sterile. It seems that Hut's has tarnished its legacy through opening such a sad establishment. Meanwhile, the old West 6th location is now home to an Italian restaurant called Sammie's. Unsurprisingly, Sammie's is owned by MML Hospitality Group.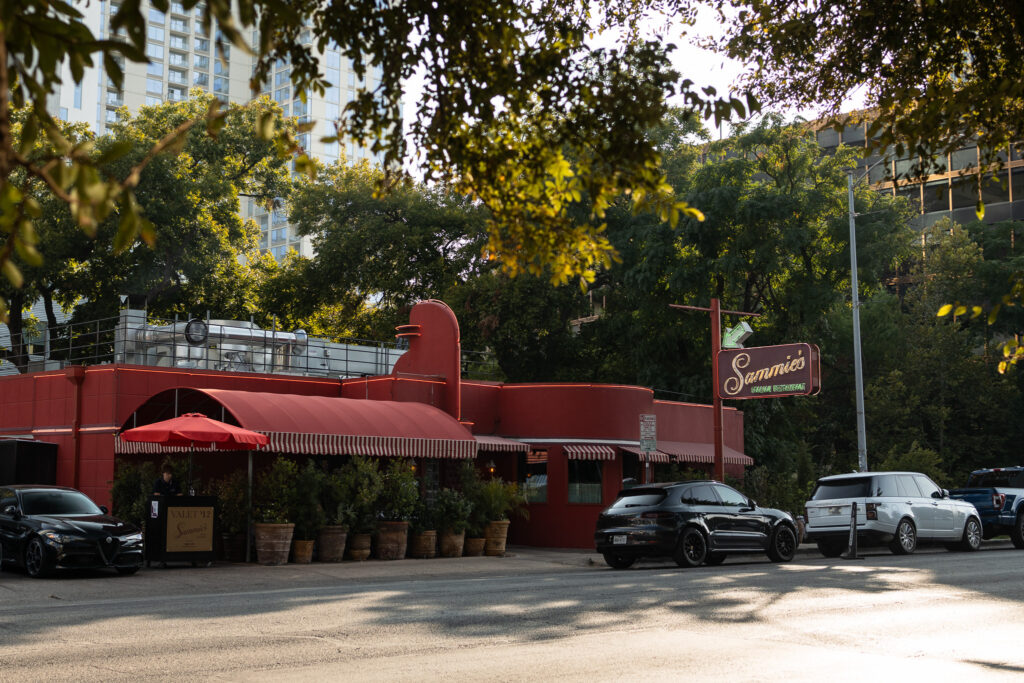 Hill's Cafe
4700 S Congress Ave
Hill's Cafe Plans to Reopen
Hill's Cafe was located on 4700 S Congress Avenue. The cafe closed in 2018 after being in business for over 70 years. There was talk of relocating the business in a development near Ben White Blvd. but this has yet to happen. Hill's Cafe closed because the family who owned it sold the building (along with 15 acres of land surrounding it) to real estate developers. The developers are looking to put $180 million into the property to create a mixed-use development. According to the developer, they are now hoping to create a Hill's Cafe restaurant in the new development on 4700 S Congress.
South Congress Cafe
1600 S. Congress Ave.
The South Congress Cafe Gave up its Charm
South Congress Cafe served pancakes for 18 years before the owners, who also own the Tex-Mex chain Trudy's Del Mar, decided to convert the restaurant into a contemporary Tex-Mex seafood restaurant. They figured that that the cafe was due for a "facelift" anyway, plus they had always wanted to open a Tex-Mex seafood restaurant. However, the facelift was a botched job and the restaurant closed in January 2023, just a year after its opening.
Conan's Pizza
603 West 29th Street
Conan's Pizza Lost its Spot on UT Campus
Conan's Pizza, a Chicago-style pizzeria that first opened in 1976, closed its original location on UT campus in 2018. The business had iconic commercials including this one from 1985. It is rumored that increased rent and lack of business were the reasons for the pizzeria's closure on West 29th St. The West Anderson location remains open.