Austin, Texas, home of the famous slogan "Keep Austin Weird", is known to be an off-the-wall city with an endless amount of strangeness to indulge in. As a born-and-raised local, I am a big proponent of keeping Austin weird partly by introducing new people into the circle of weirdness. Here are 7 weird things to do in Austin— for those who crave the peculiar, the unconventional, and the bizarre.
1. The Monkey Tree (drum circle)
The Weirdest Place in Zilker Park
The Monkey Tree is the place to be on a Sunday afternoon. Open-minded people have been coming to the Monkey Tree for more than 30 years to play in drum circles and make fast friends. The Monkey Tree is a large oak tree in the park area of Barton Springs. You can search "The Monkey Tree" on Google Maps for exact directions. You're likely to see hula hooping, fire spinning, and lots of people lounging on picnic blankets. There is also a free yoga class on Sunday evenings.
Nature's Treasures is a HUGE crystal store with jaw-dropping geodes that you could quite literally climb inside of. Nature's Treasures is the largest crystal store in Texas that houses not only a bulk rock section, but a spacious boutique as well. There are so many beautiful crystals, salt lamps, knick knacks, and pieces of jewelry- you're sure to walk out of there with something in your hand. They also sell tarot cards and occasionally have tarot card readers there.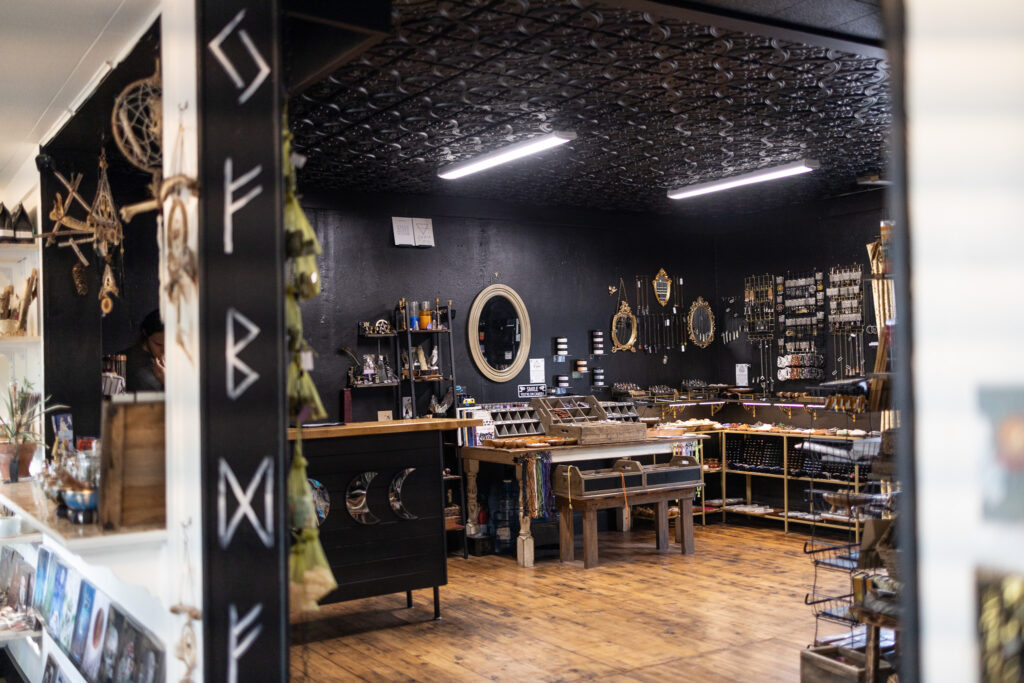 Whether you're looking for a love potion or a frog in a jar– Yarrow and Sage has something for you. Yarrow and Sage is a witchy gift shop that also sells items that can be used to practice actual witchcraft. This tiny shop has "Unique Metaphysical Offerings" including tarot, herbs, art, incense, as well as other ritual tools. Out front, there is a small trailer where tarot readings are performed. Currently, their tarot card readings are given by a "tarot therapist."
4. The Cathedral of Junk
The Cathedral of Junk is a three-story structure made of old 'junk' like tires, broken TV's, grocery carts, barbie dolls, and beer bottles. It is easily the most mystical place I have ever been to. There is no dry-wall nor newly constructed material; the entire building is composed of recycled items. The Cathedral is in the backyard of Vince Hanneman, who is the architect of the structure. Before visiting the Cathedral, call Vince at (512) 299-7413 for directions. Although it is free to visit the Cathedral of Junk, Vince does ask for donations.
5. Out of the Past Collectables (hoarder store)
Out of the Past Collectables is an antique shop that is… eclectic to say the least. Be prepared to travel a narrow route through a very large amount of inventory. Here you will find a lot of dishes, paintings, records, posters, magazines, books, toys, and furniture. This is a great place to go if you enjoy sifting through a large quantity of items in search of a treasure. The price of many of the items is also negotiable, so be ready to bargain.
6. Hippie Hollow Park (nude beach)
The Weirdest Way to Swim in Lake Travis
Hippie Hollow Park is famous for being the only "clothing optional" beach in Texas. It is definitely the weirdest way to visit Lake Travis. Due to the lack of clothing on its visitors, the park is restricted only to visitors 18 and up. Similar to much of Lake Travis, beach is pretty rocky so don't forget your Chacos. Hippie Hollow usually reaches capacity on holiday weekends. There is a cash-only fee to get into the park so make sure you come prepared.
7. Uncommon Objects
Uncommon Objects is a large, maze-like shop that sells quirky antique items that you won't find anywhere else. From old 19th century photographs of Amish families to taxidermied chickens to a full suit of armor, you are sure find something noteworthy wandering through its many themed sections. This bizarre store was one of the main attractions of South Congress Avenue for the 26 years it operated there. Due to the rising cost of rents across Austin, Uncommon Objects moved locations to 1602 Fort View Rd.
What are the best adventures in Austin?
I've had many adventures in Austin so these are just a handful of my recommendations for people who are looking to have an interesting and unconventional cultural experience. (See our article: What it's like to be from Austin, Texas) I first went to the Monkey Tree after I met an interesting group of people spinning fire in Zilker Park. They were all sitting on a blanket and were quick to invite me to sit with them. Many of them had backpacked all over Europe, traveled the US in a van, and done all sorts of crazy things.
Although I live a pretty grounded lifestyle as a high achieving college student, I enjoy hearing the stories of free spirits who have gone on outlandish adventures. Their alternative lifestyle is reminiscent of how many more Austinites used to be. Austin used to be a city full of musicians and artists who worked part time to cover their living expenses while pursuing their passions. It is nice to meet people who still follow alternative culture. The places I have listed above are where I have found them. From the Monkey Tree's drum circle to the Cathedral of Junk, I've hopefully given you some ideas about some weird things to do in Austin, Texas.