Hey there! Some links on this page are affiliate links which means that, if you choose to make a purchase, we may earn a small commission at no extra cost to you. We greatly appreciate your support!
Any hiking or backpacking fanatic knows that your gear matters. The nylon strap that comes with your camera might work great for taking photos at a family barbecue, but when you find yourself miles deep into a strenuous hike, you're going to wish you had invested in something better. I recently found myself in this very same situation while hiking in Basalt, Colorado. Chafed and unevenly sore, I decided it was time for an upgrade. These are my picks for the best camera harness for hiking and backpacking:
First, how NOT to carry your camera while hiking or backpacking
So you've decided it's time to upgrade your camera carrying method but you don't know where to start. Let's first establish how not to carry your camera.
The worst way in my opinion to carry your camera while hiking or backpacking is in a backpack style camera bag. While backpack camera bags are great for transporting your camera, you should avoid choosing them for hiking for 2 reasons:
Most obviously, they take the place of your hiking backpack preventing you from carrying necessities like water, food, and sunscreen that you would otherwise carry. This should be an immediate disqualifier.
Furthermore, you also have to take backpack style camera bags on and off again to get your camera out. This will quickly become irritating as your hike progresses and you'll likely end up just holding your camera in your hands the whole time (defeating the purpose of the bag).
So… what is the best camera harness for hiking and backpacking?
Best Camera Harness for Backpacking & Long Hikes
The Cotton Carrier G3 camera harness is an excellent choice for backpacking and longer hikes. This camera harness system, which almost fits a vest, secures your camera with a torso clip. An optional secondary strap can further secure your camera to your chest. The weight of the load is evenly distributed across shoulder and waist straps. It also features a safety strap that remains attached to your camera when you take it off the clip to take photos. This allows you to move around without fear of dropping your camera. To remove your camera from the clip, you simply rotate the camera and slide it up out of the slot.
For hiking and backpacking over rough terrain, I can't think of a better option than the Cotton Carrier G3 camera harness. With a traditional sling, the sway of your camera makes hiking more strenuous and creates risk of damage when traversing difficult terrain. But because this harness secures the camera to your chest, it will not sway as you hike.
This camera harness is also front loaded which will counteract the weight of your backpack and allow for greater comfort.
Features
No camera sway while moving
Symmetrical weight distribution
Quick and easy camera access
Drawbacks
Shoulder straps may overlap with the straps of your backpack
Best Camera Harness for Short & Moderate Hikes
The BlackRapid Sport Breathe cross-body camera sling provides both comfort and easy access to your camera, and is perfect for short and moderate hikes. It features a shoulder strap that is wide on top to spread out the weight distribution, as well as an underarm strap to secure the sling in place. The fully rotatable fastener, which screws into the bottom of your camera, connects to the sling with a carabiner. The carabiner fastening then can slide up and down the sling for quick and easy shooting. The sling length can be adjusted for all body sizes.
Features
Wide and comfortable shoulder strap
Adjustable sling length
[maneuverable] for fast shooting
Small and portable
Drawbacks
Unevenly distributed weight
Camera will swing and move while hiking
Camera Harness Alternative: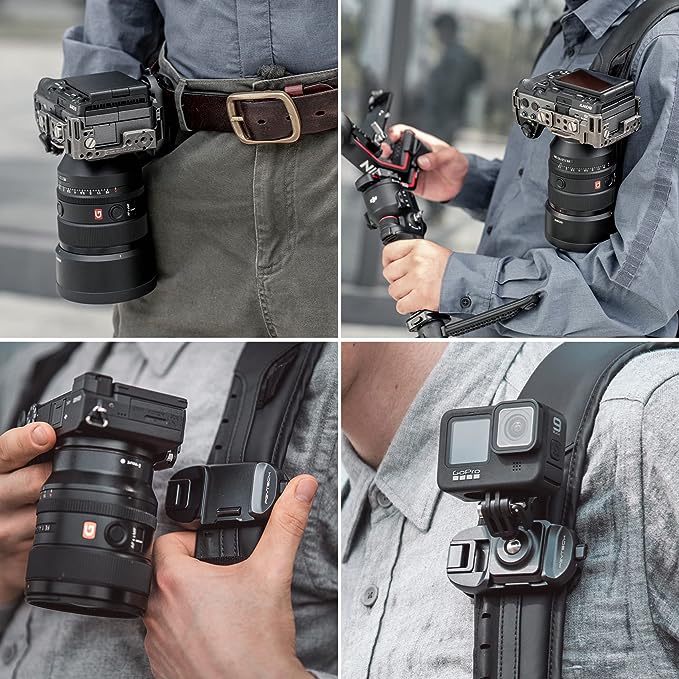 The highly versatile PGYTECH Beetle Camera Clip secures your camera to its tripod mount style aluminum alloy plate which latches into the clip. This clip can then be attached to either your backpack strap or your belt, depending on your preference. It not only can be fitted with your mirrorless or DSLR camera, but can double as a mount for your GoPro video camera.
I love this clip because you don't have to wear any extra straps underneath your backpacking or hiking pack. You can also move it around from your shoulder strap to your hip in case one side of your body gets tired during your hike. This makes it a great alternative to a camera harness or sling for hiking and backpacking.
Features
Can be clipped anywhere on your body or backpack
No shoulder straps, good for backpacks
Light and durable construction
Easy camera release
GoPro compatible
Drawbacks
Uneven weight distribution
No safety straps to prevent camera drops
Conclusion
Choosing the right carrying method for your camera is an important consideration for hiking and backpacking photography. The last thing you want is for chafing and sore shoulders to distract from the beautiful views on your hike. Whether you elect to go with a camera harness or a camera clip, hopefully I've armed you with the information necessary to choose the perfect option for you.