Summer is the perfect time to visit Basalt, Colorado. The weather is ideal for outdoor activities like fly fishing on the Frying Pan River, white water rafting down the Roaring Fork River or hiking in Basalt and the surrounding areas. There are also plenty of great restaurants and activities in Historic Downtown Basalt.
Where is Basalt, Colorado?
Basalt, Colorado is located where the Frying Pan River meets the Roaring Fork River. Basalt is located just 30 minutes outside of Aspen. It is known for being one of the best places in Colorado to fly fish. There are beautiful luxury homes nestled between the Seven Castles Mountains on Frying Pan Road. Although Basalt is a small town, there is plenty to do. Between hiking, fishing, and the cute shops you might not even have time to visit Aspen!
Summer Activities in Basalt
Fly fish on the Frying Pan River
Fly fishing is the best, and I say that as someone who usually hates fishing. I like fly fishing because it's super fast paced.
Anyone is free to cast a line into the Frying Pan River, which flows alongside Frying Pan Road. The Frying Pan River is about 42 miles long, stretching from Mount Massive through the White River National Forest, and ending in Basalt. The best spots to fish in Basalt are Strawberry Rock and anywhere south of the Ruedi Dam.
I recommend that you get a fishing guide, the guides not only teach you the best technique to use– they also tie the fly fishing line is pretty difficult if you aren't an expert. Taylor Creek is a fishing shop in downtown Basalt that offers guided fishing trips. You can also rent fishing gear (poles, waders, etc) for the day. Make sure to bring wool socks, and wear pants if you are planning on standing in the river wearing waders. The river is SUPER cold.
After a morning of fishing, I recommend grabbing a bite at The Tipsy Trout. The Tipsy Trout is a restaurant near the Taylor Creek fishing store that has a patio right on the side of the river. The fish tacos are spectacular and fulfill a certain need after a day of catch and release fishing.
Adventures on the Roaring Fork River
The Roaring Fork River allows for both white water rafting and kayaking. I haven't done either of these activities, but definitely plan to try them out in the future. If you are interested in learning more about kayaking and white water rafting, visit this website.
Hiking in Basalt
There are a lot great trails for hiking in Basalt. The Arbaney Kittle Trail is one of the most popular. The entire trail stretches 22.4 miles round-trip. It is very steep for the first 1.5 miles, and then it decreases when you reach Sloane's Peak. A lot of people hike up to Sloane's Peak, then turn around and go back down. If you're looking for a quick and intense hike, I would recommend hiking up to Sloane's Peak and turning back around. If you're wanting something that will take multiple days, the full Arbaney Kittle Trail might be of interest to you.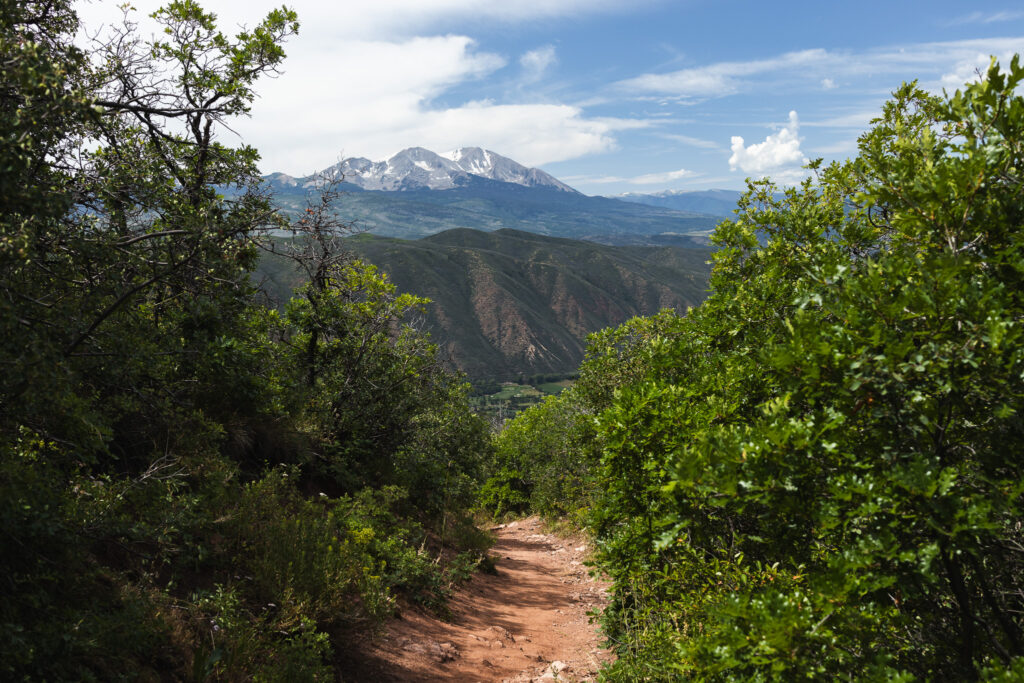 If you are wanting a more extensive single-day hike, I would recommend hiking the Thomas Lakes Trail. It takes around 45 minutes from Downtown Basalt to get to the trailhead but the drive is well worth it. The view from the trail is just spectacular. A large stretch of the trail is through a beautiful meadow; there is rarely a moment when you don't have a view. Thomas Lakes Trail is 8.1 miles round-trip. Definitely bring some water and a substantial snack or meal.
The famous Maroon Bells Mountains are about 30 minutes outside of Basalt. There is a beginner-friendly scenic trail around the lake that is around a mile, with stop in points perfect for taking hiking photos. The entire trail is flat, which makes it wheelchair accessible. There are also six other trails of varying difficulty. To get to the Maroon Bells trailhead, you have to take a bus from Snowmass. Make sure to book your tickets online before-hand to ensure that they aren't sold out when you get there.
Restaurants in Downtown Basalt
Downtown Basalt is a single street of shops and restaurants. My three favorite restaurants are Two Rivers Cafe and Bar, Free Range Kitchen, and the Brick Pony Pub.
For breakfast, I like to go to the famous Two Rivers Bar & Cafe. People don't go to this cafe for the ambience– they go for the pancakes, french toast, and egg plates. It's a classic, run-down dinner that is always packed for brunch. Celebrities who own vacation homes in Basalt, like Goldie Hawn, have been spotted eating at this down right delicious and down-to-earth spot.
For lunch, I recommend going to the Brick Pony Pub. Brick Pony has great sandwiches, brick-oven pizzas, and salads. I like to get the Burrata salad and add grilled Salmon. The restaurant uses local produce and hormone-free meat yet it is still an affordable dining option. Brick Pony Pub is a great place to sit in a cushy booth and listen to live music. It is also a great place to sit at the bar and watch a sports game.
For dinner, I like to go to Free Range Kitchen. Free Range Kitchen's menu has gourmet options that range from rich to light and healthy. Whether you want Riverence ruby trout, hanger steak, yellow summer curry, or a smash burger- there's something for you. There is an extensive wine menu and delicious craft cocktails. Free Range Kitchen is an upscale restaurant yet it still retains the vibe of a relaxing, family establishment with its live music. It is owned and run by husband-wife duo Steve and Robin Humble.
2023 Summer and Fall Activities in Downtown Basalt
June 21 – August 30: Every Wednesday at 7 p.m. there is a free concert in downtown Basalt. This is a part of the Summer Concert Series in that goes from June 21 to August 30.
June – September: Every Sunday from 10 a.m. to 2 p.m. there is a farmers market in front of Town Hall that has local vendors. The Basalt Sunday Market will happen, rain or shine, from June 18 – September 24.
September 22: An annual hot air balloon festival is held in nearby Snowmass Town Park. The Snowmass Balloon Festival features a race with 30 balloon pilots and a night-glow display. The festival also has barbecue and a free concert.