It's that time of year again! Austin City Limits Music Festival 2023 is just around the corner. With Kendrick Lamar, the Odesza, and Foo Fighters in the line up– you'll look your best.
Music festival fashion became trendy in the early 2000's when celebrities started dressing up to go to Coachella. This trend is now strong in Austin as well, but with it's own Texas flavor.
When deciding what to wear to ACL, keep in mind that Austin is a city that is all about being casual, being unique, and most importantly: being yourself. With this Californian influence in conjunction with Austin's characteristic authenticity, you're sure to see some fun outfits at ACL. Many people plan three entirely different outfits for each of the three days.
Whether you're looking for a classic music festival outfit or something that a bit more out there– I've got some outfit ideas for you! Here are some classic, outlandish, trendy, and athleisure ideas!
Outfit Ideas For Austin City Limits Festival 2023
Classic ACL Outfits
You really can't go wrong with tie dye when it comes to ACL. Music festivals are the time to let your inner Texas hippie shine, to let your free spirit roam. Hippies were the original festival goers and they always wore either boho or tie dye clothing. If colorful tie dye isn't your jam, maybe a minimalist boho style is the way to go.
Here are some classic ACL festival outfits ideas:
Bold and Trendy ACL Outfits
Crochet clothing is all the rage right now and they have been for a while. But many people look at crochet clothes and wonder: Where in the world could I wear that? Many of us don't have the guts to roll up to class or to work in a partially see-through top. ACL is the perfect time to follow the trend that you've always wanted to try out. Crochet clothes come in both tightly knitted and loosely knitted forms. There are halter tops that are more full coverage around the breast area and there are also tops/shorts that show more skin with a square stitching pattern.
The bandana top is another bold style that's very in right now. You might have seen people sporting this look and thought "Can I pull that off?" ACL's the perfect time to give new styles a trial run for wearing them on other occasions. I can't tell you how many times I've done exactly that.
Here are some outfits that I like:
ACL outfits that make a statement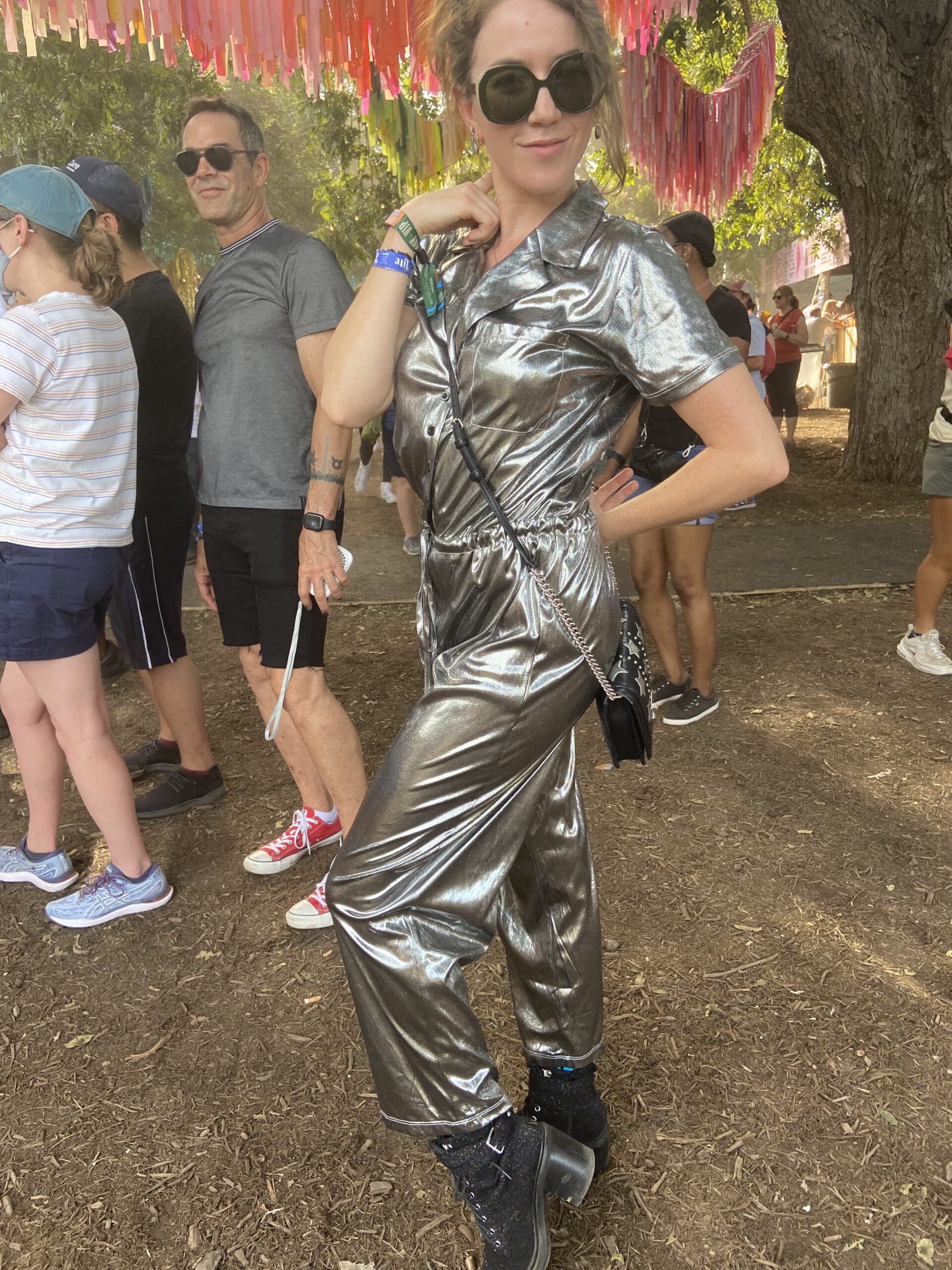 If you're looking to turn heads at ACL, dig deep within, channel your inner spirit animal and search for the most outlandish attire possible. From superhero costumes to fairy wings you really see it all at ACL. If there's an aesthetic that you've always wanted to experiment with, Austin City Limits is the time to try it out.
Here are a few cute outfits I could find:
Athleisure ACL Outfits
If you wear athletic wear to ACL, you're pretty ahead of the game. Austin is an incredibly sweaty city to live in, even in early October when you would expect it to be cooler outside. Last year, it was around 85 degrees at ACL but it felt a lot hotter! Luckily, there are plenty of athleisure clothing options that are sure to keep you cool. Athletic wear comes in a variety of different silhouettes that are both practical and cute. There are a lot of fun prints and metallic fabrics to choose from.
ACL Accessories
When it comes to accessories, practicality is key. You don't want to be carrying around something that you don't need. You are sure to lose it. I would recommend bringing sunglasses, a hat, and a bag. Here are some options that I found:
Sunglasses
Sunglasses are an absolute must at ACL both for style and for function. Below I've included a couple of trendy specs to help make a statement this year.
Hats
Fun and stylish hats are a huge part of ACL fashion. They're both fashionable and protect you from the Texas sun!
Bags
ACL festival has a specific bag policy which requires all bags larger than 6″ x 9″ to be clear, so it's important to appropriately prepare. Hydration packs don't have to be clear but they have to be empty when you arrive and have fewer than 2 pockets. If you have the extra budget, hydration packs are a godsend. I've included the full bag policy at the bottom. Here are some great bag options to choose from for your festival kit:
ACL's Official Bag Policy:
"ALL bags will be searched prior to entry. Small clutch purses and fanny packs that are 6″ x 9" or smaller do not need to be clear, but can have no more than one pocket.
All other bags larger than 6″ x 9″ must be smaller than 12″ x 6″ x 12″ and clear.
Hydration packs are allowed and do not need to be clear, but must be emptied of all liquid and have no more than two pockets in addition to the one holding the water reservoir."
ACL is hosted by C3 Presents, a company that also puts on the brand new country music festival Two Step Inn in Georgetown, Texas, just 30 minutes north of Austin. Check out our recap of Two Step Inn 2023.