The Austin City Limits Music Festival (ACL) is an annual music festival held in Austin, Texas, at Zilker Park. The festival takes its name from the long-running PBS TV show, "Austin City Limits," which has been showcasing live music since 1975. ACL is Austin's largest festival outcompeting SXSW by an estimated 150,000 attendees. One of my favorite things about this festival is that the city feels like a different place. When ACL's going on, it's impossible not to notice. Part of this is the terrible traffic, but there are also a ton of fun peripheral events going on after the festival each night.
A Short History of ACL:
From Death Grips to Tanya Tucker to Kendrick Lamar, the line up this year spanned all genres. These days, this is a fairly typical spread. But it wasn't always this way…
Austin City Limits was first launched in 2002 and was only 2 days long with 67 bands across 5 stages. One-day tickets only cost a measly $25 at the time. The lineup looked very different than today with a greater emphasis on local Austin country, blues, and folk bands. The festival was an instant success, with around double the attendees than expected.
Over a decade later in 2013, ACL was now 2 weekends long and featured internationally famous bands and artists including The Cure, Depeche Mode, Muse, and Lionel Ritchie.
I attended ACL in 2011, 2015, 2016, 2019, & 2023.
This Year's Experience:
This was my fifth year attending Austin City Limits music festival, hosted by C3 Presents (who also host Two Step Inn). I attended Weekend 1 and this year was by far the smoothest and least chaotic. It's estimated that 450,000 people attend ACL each year, yet it somehow felt less crowded in 2023 than ever before.
Friday
Lil Simz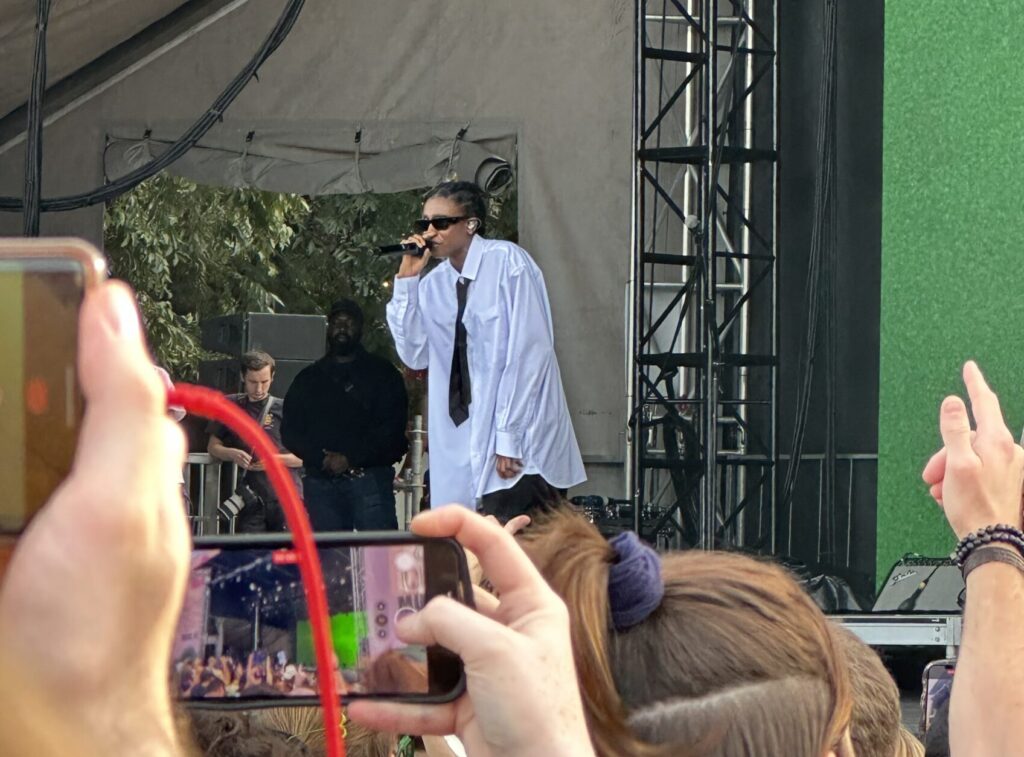 The first show I saw when I got there was Lil Simz. To my memory, I hadn't heard of her before, but she ended up being my favorite new artist of the entire weekend. Her smooth lyrics over the jazzy R&B beats were fun to listen and dance to.
I actually also realized that I had seen her play as an opener to a Chance the Rapper concert at South by Southwest back in 2015! Who woulda thought? But Lil Simz is definitely the artist from the weekend that I've continued to listen to the most.
FKJ
I only popped by FKJ for a few moments, but in hindsight I wished I'd stayed longer. The vibes were immaculate and everyone was grooving to the tunes. Alas, I had to go meet my friends for dinner…
I did manage to snap this photo though:
Kendrick Lamar
Seeing Kendrick was by far the show I was most looking forward to. Unfortunately, due to "plane issues", he was over an hour late. When he finally did arrive, he played about 5 absolute bangers before ACL cut his mic and everyone was forced to go home. Definitely upsetting but I did have fun while it lasted.
Saturday
Chromeo
I (once again) got to ACL a bit late on Saturday and missed Mt. Joy, who I was intending to see. Instead, I went to Chromeo with some friends. Truthfully, Chromeo was not for me. The music was overly pop-y and made me incredibly bored. I left to get a drink (actually two drinks) before it was over.
30 Seconds to Mars
While I was getting my two drinks and recovering from that barrage of pop beats and skinny jeans, I noticed something– or someone rather, on the Honda Stage. It was MOTHERFUCKIN' JARED LETO. I had completely forgotten that he was the lead singer of 30 Seconds to Mars– a factoid which tickled my sensibilities. "It was like if you went to Mumford and Sons and it turned out Tom Hanks was the lead singer!", I later exclaimed to Abbey.
I accidentally arrived at that concert exactly when they were starting to play the song The Kill which is actually the only song I even know by them. I was hyped. Seeing an A-list actor rocking out in front of a giant crowd as if he wasn't an A-list actor was hilarious to me, and only added to my mainly-ironic appreciation of this band. Also, he was wearing an entirely red dirt biking suit and insane red eye shadow, which added to the spectacle for sure.
Tove Lo
I then headed to Tove Lo, which was a favorite of Abbey's. "Last time I saw her," she said, "Tove Lo flashed her boobs at the crowd! I wonder if she'll do it again…" She did.
Although I usually don't listen to Tove Lo-type music, this show was pretty fun and the energy of the crowd was good.
Foo Fighters
We watched Foo Fighters from relatively far back. I was fairly tired by this time. They were great but I find that bands who are far past their prime seem to lack a sort of– spontaneity. I'm not super into watching them. I saw Chicago and Earth, Wind, and Fire at a show when I was a teenager and got the same feeling. Like, they've clearly played this song so many times that they could do math equations in their head during the show and not miss a beat. It almost feels just like listening to the song on Spotify for this reason. But maybe I just wasn't close enough.
Sunday
Tash Sultana
Tash Sultana was an artist that Abbey heavily advocated for, and so we got there a bit earlier than the day before. We got significantly close to the stage as well. I had never heard of Tash Sultana but I was blown away. They first came out alone and played literally all of the instruments, looping them on top of each other. Over the course of the show, they played multiple guitars, a bass, drums, a saxophone, a midi controller, a trumpet, the keyboard, and some sort of wooden flute. It was some real prodigy shit.
Looping instruments takes a while to set up and can get a bit tiresome for the audience, but after about four songs, Tash had a band come out and play most of the rest of the songs. I definitely recommend seeing them if you get the chance.
Yeah Yeah Yeah's
I didn't recognize the name of the Yeah Yeah Yeah's at first when we walked up to the crowd. Their energy was good and I loved the lead singer's bowl-cut haircut plus her sparkly red bodysuit thing. It just fits the vibe. It wasn't until they started playing Heads Will Roll that I realized I had heard this band a lot in my life. That song was an absolute banger, and my friends and I all went crazy dancing along.
Cigarettes after Sex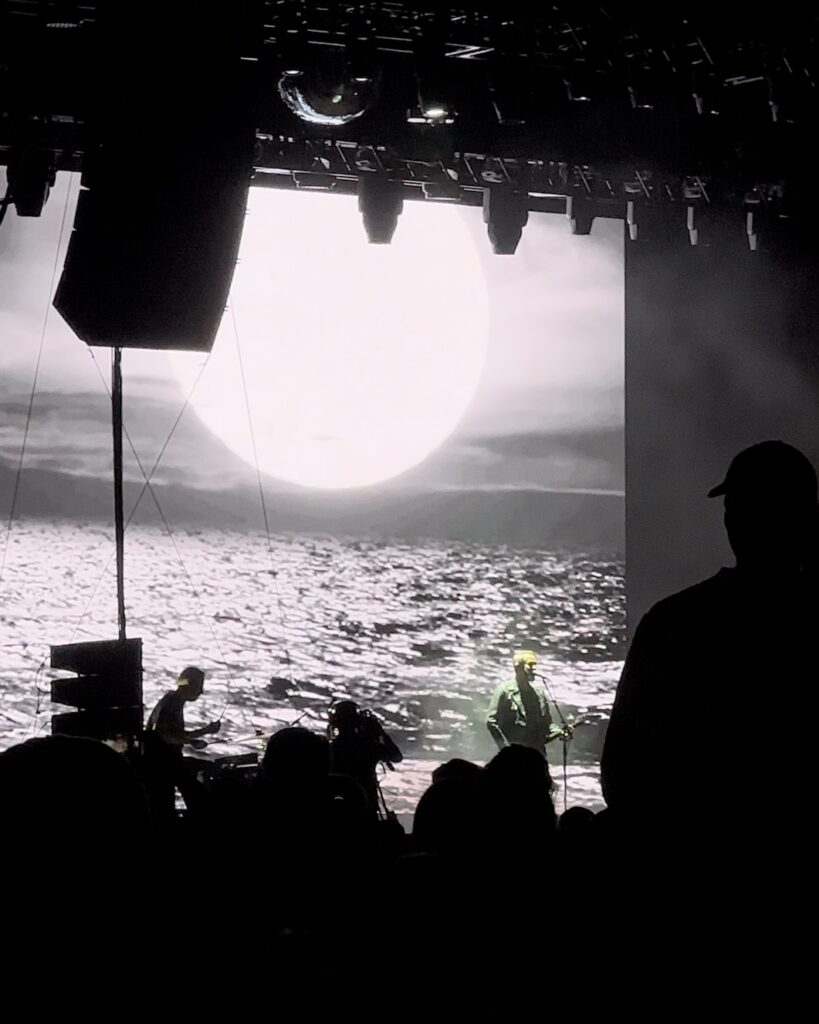 I'm not sure exactly what I expected from Cigarettes After Sex, but in all honesty I wish I'd gone to Deathgrips. It was so slow and somber, we ended up just laying in the grass and watching from afar. A funny thing about this concert was although the music was so chill and slow, after every song the crowd would shriek with excitement.
Odesza
On paper., Odesza should have been the coolest show at ACL. I don't know if it was where we were standing in the crowd or if the speakers were too quiet overall, but it just didn't hit. It was entertaining to see all the drummers on stage and the feature acts (there were several), but I didn't feel compelled to dance like I was expecting. I heard similar feedback from several other people as well.
Austin City Limits 2023 Summary:
As a seasoned ACL attendee, I've seen the festival change and grow firsthand. Austin City Limits 2023 stands out as a noteworthy installment in its ongoing story. The festival successfully showcased its unique qualities: a diverse range of musical genres, a genuine love for music, and the shared experience of enjoying live performances with others. Although ACL will likely keep expanding and adapting, its core identity as a central part of Austin's music scene is steadfast.
To get updates about Austin City Limits 2024, click here.