Bar hop with me through Austin, Texas – a city that has taken the mezcal cocktail to a whole 'nother level. From the fiery blow of El Guapo to the sweet decadence of Midnight City, here are the 5 best mezcal cocktails in Austin, Texas: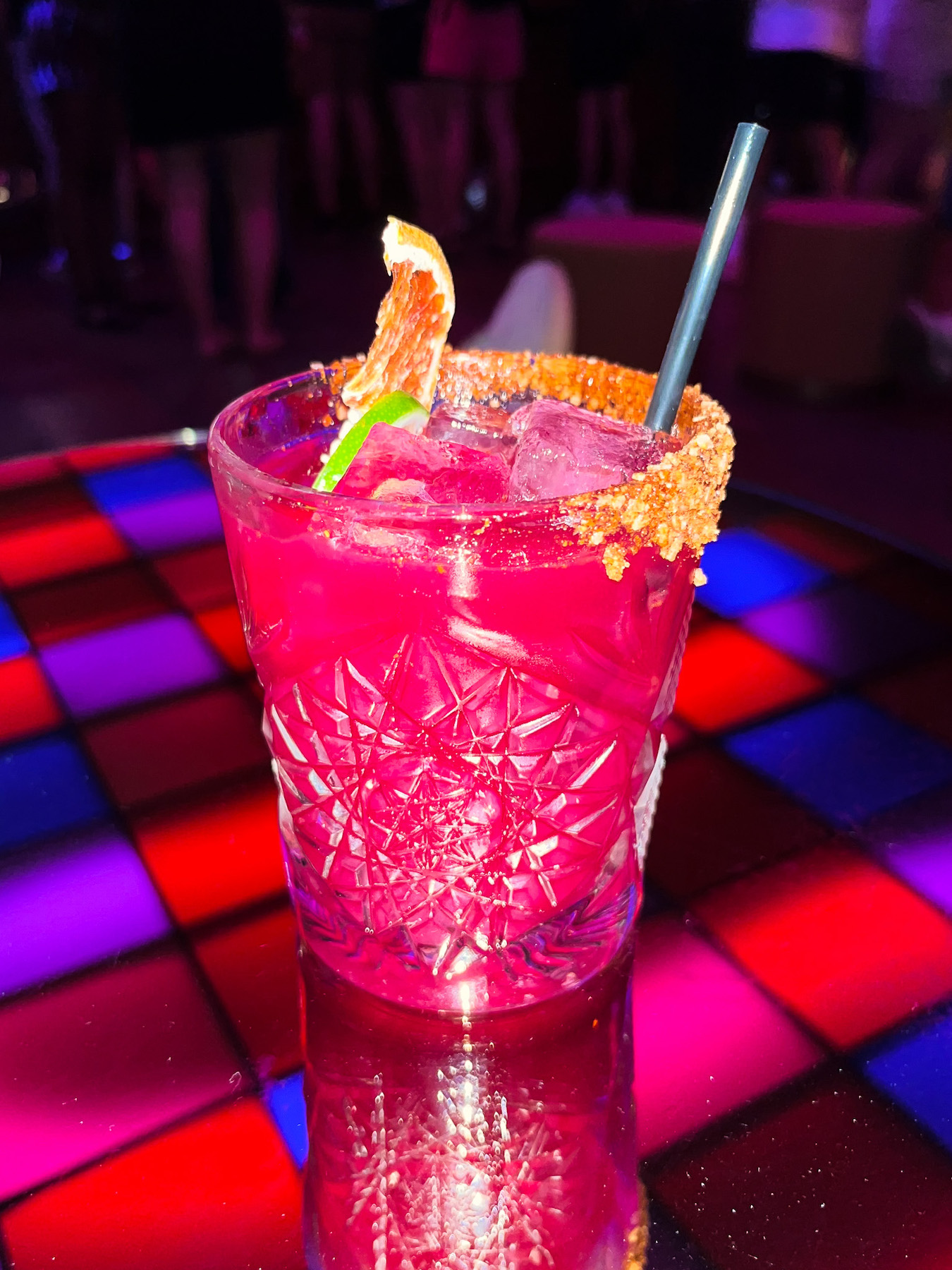 What are the best mezcal cocktails in Austin?
CASSIOPEA ($13) savory, flavorful
Rosaluna Mezcal, Fresh Beet juice, Squirt Grapefruit Soda, Chipotle Sea Salt, Dried Grapefruit
High Noon: 2000 E Cesar Chavez St, Austin, TX 78702
The Cassiopea is a savory mixture of sweet vegetables, peppery chipotle, and tangy grapefruit. This drink suitable for someone who doesn't want to commit. To level up the spice: you can lick the rim. To rein it in: you can stick to the straw. Regardless of your taste, the spacious bar makes the for a pleasant drinking experience. The glowing red and blue ceiling tiles of this colorful East Austin bar are a perfect match for this vibey cocktail.
El Guapo ($13) spicy, botanical
Lime, Cucumber, Simple Syrup, Tabasco, Mezcal
Las Perlas: 405 E 7th St, Austin, TX 78701
This handsome cocktail isn't for the faint of heart: he'll send those who aren't ready for him running to the water cooler. El Guapo is topped with cucumbers that have been minced with tabasco. Upon request, it is served in a glass with a chili-salt rim. The intense drink will wake up your taste buds, leaving you ready to take on the night.
A Love Letter For Mickie ($18) smokey, dark
Rosaluna Mezcal, Tromba Resposado Tequila, St. George Green Chile Vodka, Ancho Reyes Verde, Prickly Pear, Guava, Sambal, Jalapeno, Citrus, Agave
Ah Sing Den: 1100 E 6th St, Austin, TX 78702
A Love Letter For Mickie may sound complicated based on the menu's description but there's no need to be suspicious of this smokey drink's intentions. Mezcal lovers will be heartbroken upon finding their glass empty. It is a lovely combination of smokey mezcal, spicy jalapeño, and sharp citrus. Ah Sing Den's red lanterns and tight-knit dance floor makes for an intimate atmosphere. If I had to personify this drink: it would be the love child of complex, artistic parents who first found their spark over appetizers in the front room.
Mezcal Paloma ($12) light, refreshing
Mezcal, Grapefruit Soda, Agave, Lime, Chile Rim
Kitty Cohen's: 2211 Webberville Rd #3548, Austin, TX 78702
The Mezcal Paloma is a refreshing choice for someone who hasn't ever had mezcal. It's a great drink for someone who wants to dip their tongue into the world of mezcal while dipping their toes into the pool on the patio. The grapefruit soda lightens up the smokey flavor enough so that it is palatable for those who can only handle a basic margarita. However, someone who can handle some heat will also enjoy this drink. It is more citrusy than it is sweet.
MIDNIGHT CITY ($17) sweet, rich
Mezcal, Cold Brew, Chocolate, Marshmallow, Amaro
Whistler's: 1816 E 6th St, Austin, TX 78702
The Midnight City cocktail is adjacent to an espresso martini but is more akin to chocolate milk. It will leave you saying: "That was so good. Oh my god…" This foamy drink satisfies a sweet tooth unlike anything else on the menu. Whistler's, an essential spot for Austin mezcal, has a small, candle-lit mezcal bar upstairs is a great place to wind-down. Midnight City makes for a great nightcap. This cocktail won't keep you up past your desired bedtime; it will just give you enough energy to not pass out in the Uber ride home.
What's the difference between Tequila and Mezcal?
The difference between tequila and mezcal is that Tequila can only be made using the blue weber agave plant grown in the Tequila region of Mexico, whereas mezcal can be produced using any type of agave plant. Cocktails like margaritas and palomas are traditionally made using tequila, but mezcal, a smokier liquor, is now being used as a tequila substitute in a variety of cocktails. Tequila has a sharper, fruiter flavor and is usually made by steaming agave whereas mezcal is made by smoking agave over lava rocks. This is where mezcal gets its famous smokey flavor.
I personally find that mezcal cocktails meet my desire for a spicy, sipping cocktail better than tequila does. The popularity of mezcal has risen in the last year. Sales for agave derived liquors have risen 17% overall. Technically, all tequila is mezcal whereas all mezcal isn't tequila. Tequila and mezcal's commonality can be traced back to their Mexican roots. They are some of the oldest spirits in the world, and are a classic Mexican bar staple. Confusing categories set aside, it only makes sense that mezcal is featured in cocktails in Austin- a city known both for its Tex-Mex cuisine and forward-thinking residents.