Are you looking for a relaxing weekend getaway? Check out these Texas gems for your next mini vacation. Whether you are looking for a girls trip or a romantic getaway, a weekend excursion with kids or a camping adventure- here are 4 amazing ideas for weekend trips in Texas.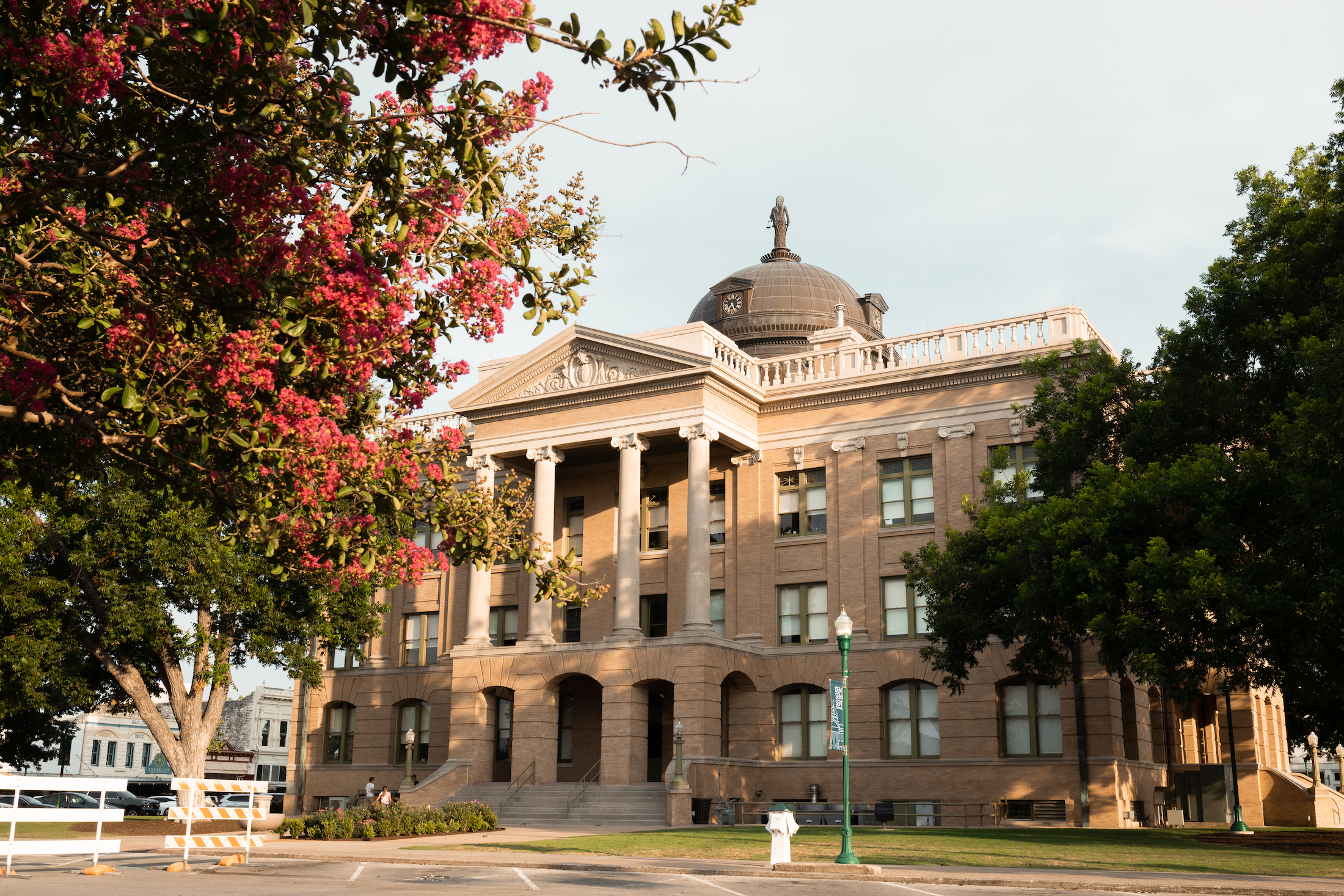 Best Places in Texas for a Weekend Getaway
Fredericksburg, Texas:
Great for a quick 2-night romantic getaway
Fredericksburg is a historic German town an hour and a half away from Austin. It is home to over 50 different wineries, vineyards, and wine tasting rooms. The city has authentic German cuisine and many specialty shops. There is also a lot of site-seeing which makes it a great date-spot that is ideal for a romantic getaway.
While enjoying an afternoon in Fredericksburg, make sure to pay a visit to Wildseed Farms. Wildseed Farms is the largest working wildflower farm in the United States. This property has over 200 acres of wildflower fields and there is a half mile walking trail through these scenic fields. There is also a plant nursery, a seed shop, and a store that sells their specialty jams as well as other goodies. Wildseed farms is also a winery that offers tastings.
There are numerous restaurants in Fredericksburg, but fine-dining restaurant Vaudeville is especially romantic. Located inside a stunning, historic building on East Main Street, Vaudeville has an art gallery and retail showroom on street level. The intimate, candlelit restaurant is located downstairs, beneath street level. Vaudeville's Black Truffle Pizza made with their House Made Ricotta is just to die for.
After an early dinner at Vaudeville… just as it is starting to get dark… Der Stadt Friedhof Cemetery is worth a visit. Located just down the street from Vaudeville, this historic site is sure to send you jumping into your partner's arms. Der Stadt Friedhof Cemetery is where many of Fredrickburg's early settlers lay to rest. These headstones date back to the 1870's and many of the grave inscriptions are in German. Even if you don't catch sight of any ghosts, you can still have a true ghost hunting experience. Some of the later graves include photos of those who have passed– and the graves of children taken too soon are surrounded by toys.
Georgetown, Texas:
Great for a 2-night girls trip- lots of wine, sight-seeing, and shopping!
Located just 30 miles north of Austin, Georgetown is a cute town with historic charm. Georgetown is home to the Most Beautiful Town Square in Texas. The Williamson County Court House, built in 1910, was even a filming location for HBO's recent true crime series Love & Death. After a tour of the court house, you'll want to check out the city square. With its well-preserved Victorian-era architecture and lack of no-open-container laws- the picturesque downtown area invites visitors to grab a to-go glass of wine and browse the unique boutiques and specialty stores.
After your shopping, take a charcuterie board to San Gabriel park to enjoy lake views. Before leaving, you will definitely want to drive around to look at the different historical markers. For a list of the markers and their addresses visit the town's website. Also, don't miss a chance to take a tour of Inner Space Caverns, a jaw dropping karst cave full of gemstones.
An added benefit of Georgetown is its close proximity to Austin. If you plan on taking a trip into the big city for dinner and drinks, check out our Austin Nightlife Guide for recommendations.
New Braunfels, Texas:
Great for a long-weekend family trip with kids!
Located about 45 minutes from Austin, New Braunfels is an ideal place for a long weekend with family. The city has great water activities. New Braunfels is home to a Schlitterbahn waterpark as well as natural water features. The Comal River takes around 2-4 hours to float.
While some family members float the river, others who do not want to float could hang out in a riverside cabana next to the Float In bar and restaurant. These cabanas are a private-hangout space that can be rented through Float In. There are some river front cabanas that offer a grill and a shaded area with chairs. Then there are The Las Palmas Lounge Cabanas that are nicer and are tucked behind the Float-In cafe and bar.
These cabanas offer outdoor furniture, a private grill, and easier access to the bar. You can have up to 10 guests per cabana. After a couple days of water activities, it might be fun to do some activities in the town. Gruene is a historic district within New Braunfels known for the iconic Gruene Hall– the oldest operating dance hall in Texas. Gruene also has rustic buildings and antique shops.
Big Bend and Marfa, Texas:
Great road trip for a long weekend of camping, art, and photo-ops.
Most Instagram Worthy!
Big Bend National Park is ranked 7th on the top 10 list of US National Parks. The park has beautiful hiking trails and is located in Southwest Texas. Although it is an 8 hour drive from Austin, the scenic views atop the Chisos Mountains make it worth the journey. There is just so much to see in this 150 acre park. Big Bend has 7 mountain hiking trails, 5 river hiking trails, and there are also desert hiking trails.
There are several campsites near Big Bend but only two are located inside the park. Both campsites, the Chisos Basin Campground and the Rio Grande Village Campground require reservations. Big Bend also has cabins and glamour-camping (or "glamping" for shot) options for those who aren't wanting to brave the outdoors. Glamping options include tee-pees, rebuilt school buses, and camper RVs.
After a few days in Big Bend, you will definitely want to check out Marfa. Marfa is a small town that is a well-known art hub. It is about 2 hours and thirty minutes from Big Bend, depending on what part of the park you're driving from. Spending a night or two in Marfa is a perfect way to recuperate after hiking through Big Bend.
Marfa is home to The Chinati Foundation founded by Donald Judd, a well-renowned artist from New York. The Chinati Foundation is located on an old army-base, and displays huge indoor and outdoor installations. Donald Judd's art is associated with minimalism, and the abstract-modern art he chose to display reflects minimalist principles. The area surrounding Marfa has several outdoor sculpture installations, including the famous Prada Marfa building.
Conclusion:
Texas is home to small towns, like Georgetown and Fredericksburg, that are full of historic beauty. There are natural wonders that are perfect for a weekend retreat outdoors- from the mountains of Big Bend to the roaring tide of the Guadalupe River, these Texas cities make for a memorable weekend getaway. These places offer visitors much more than just a breath of fresh air. They are full of interesting history, scenic views, fun activities, and Southern hospitality.
Have you been to any of these places? Let us know what you think in the comments below 🙂